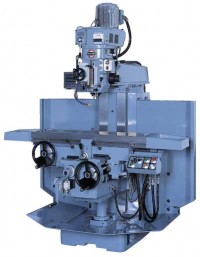 – The powerful HP spindle motor utilises an AC inverter which provides smooth, infinitely variable speed changes. A wide RPM range allows for heavy duty precision cutting of many types of materials.
– The vertical head can be tilted up to 90 degrees in either direction for angular milling, and may be locked in any position a graduated scale is provided for adjustment.
– Narrow guided knee slide way surface is hardened and finely finished by precision grinding in combination with the adoption of special synthetic resin.
– AC inverter motor drives for longitudinal and cross movements of the table.
– High precision ball screws are used for X (longitudinal)and Y (cross) axis and the fine adjusting handle(X and Y axis) are equipped for manual fine movement.
– Fine accuracy is maintained even when the head is moved to its maximum position from the column surface.
– The overarm is located on a graduated swivel base and can be locked in any position within a 360degree rotation.
– The table is capable of supporting workpieces which weigh up to 600lbs.
– The feed levers and hand wheels for longitudinal and cross movements of the table, a speed change knob, and push buttons for motors are all centrally located near the operator's reach, to permit quick and easy manipulation and fine adjustment for precision machining. The table feed is controllable without stopping machine operation.