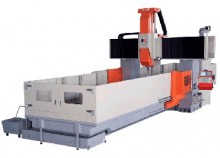 – Fixed type crossrail with strong structure, keeping the execellent verticality and parallelism even through long period operation.
– Lower positioned center of gravity plus stabilized structure columns to avoid the vibrations when spindle is moving at high speed.
– High rigidity and stabilised structure keep machine's accuracy for longest period.
– Offers the best parallel stabilisation to support the weight of the spindle and headstock.