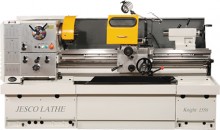 – Full geared headstock with 16 spindle speeds from 25-2000rpm.
– D1-6 camlock spindle nose.
– Rigid construction bed are induction hardened over HRC50 and with precision ground.
– Harden and ground spindle & gears in headstock.
– Main spindle with GAMET Bearings supported.
– Equipped with "Matrix" mechanical multi-plate clutch.
– Saddle slideways on bed coated with Germany made moglice for anti-friction.
– Front moveable chip tray easily for chip collection and cleaning.
– CE Compliance