Company
History & Mission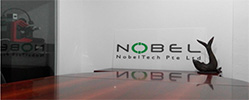 Established by a group of machine tools pioneers since 1975.
Over the years, Nobeltech have earned the trust of our customers, which we value and honour more than we do the dollar and has always been selectively promoting reliable quality machines which manufacturers have the same values.
In this respect, we have gained market recognition and references through the successful sales of several hundred machines around the region supported with proven value and reliable services.
Evolving advance in machine tools technology of the latest innovation in order to adapt to customers increasingly demanding complex machining applications.
Value of trust is not only to be earned is what it takes to keep it. Hence, all of our customers will be reassured that price, quality and performance will never be compromised.
Because honestly, how many cheap essays online truly evil people are there in real life